Issue 6
When all the king's sources and all the king's friends / Don't know their arses from their pathogens
This week's issue is a little late…but what a week! (Especially for Kanye fans). I will send out a special bumper issue later this week about the Yeezy presidential bid, but for now, let's focus on the music.
Nothing But The Blood of Yeezus
The new Kanye West album is titled God's Country. This week we were treated to the first single "Wash Us In The Blood" featuring Travis Scott.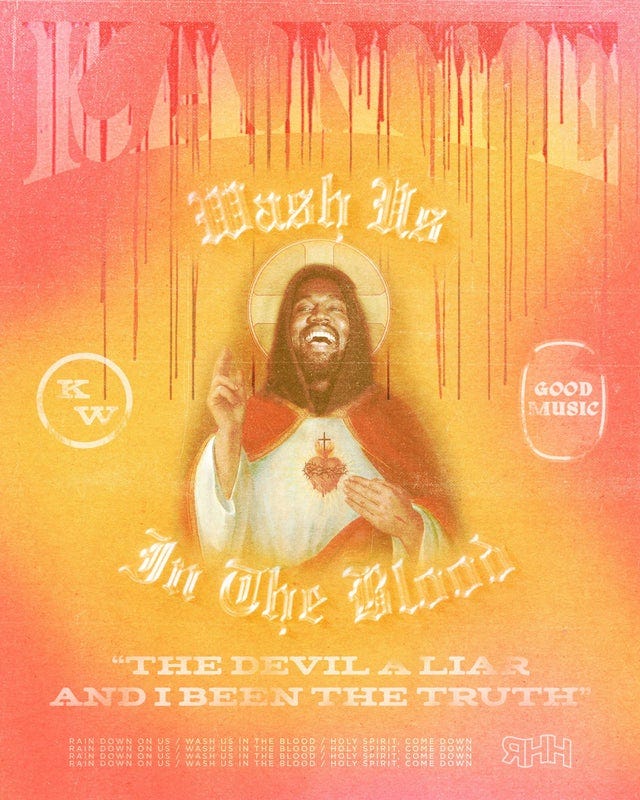 Following Kanye's very public rebirth as a Christian artist, his Jesus Is King era continues in earnest. What makes "Blood" stand out from the rest is an apparent return to more experimental production and secular lyrics.

This whole JIK era has been marked by a strong incorporation of Gospel elements and overtly worship-oriented lyrics (explored in depth in a previous blog post). On "Blood" we can hear a return to the darker and heavier aggression as found on Yeezus, with Kanye rapping about sociopolitical topics he feels God needs to cleanse us from.

This includes his perspective on how the government views his brothers and sisters as 'thugs', as well as addressing deeply seated racial crime issues in his home of Chicago. While Kanye has explored issues of personal salvation and seeking Jesus, it seems this next chapter of his career is concerned with the bigger picture - hence, God's Country.
Southside, let it bang
Outside, let it rain
Rain down on a pain
Rain down on the slain
Rain down for my mom (Ooh)
Rain down on the farm (Ah)
Shower us with your love (Huh)
Wash us in the blood (Ooh)
Drop this for the thugs (Ah)
Know I grew up in the mud (Huh)
The top is not enough
Wash us in the blood (Ah)

JIK was a joyous expression of newfound faith and salvation. As an album, fans remarked that it didn't feel finished despite its exuberance. It felt like an intermediary step for Kanye to solidify his understanding of his faith.

This next stage of his musical output promises to be a more complete and complex expression of Kanye's walk with the Holy Spirit.
(Original artwork by Rowan Henry)
Bring Me The Angst for 2020 Plz
While the 2020 musical zeitgeist is undoubtedly defined by hip-hop, the former princes of screamo turned arena conquerors noticed a hole in pop music that needed filling. The mantle had been thrust upon Bring Me The Horizon to become the saviours of modern alt rock.

Bring Me The Horizon's evolution over the years has been one of the most fascinating and surprising to come out of the emo scene of the 2000s and 2010s. With the addition of touring keyboardist Jordan Fish as a permanent member in 2013, the band embraced melody and slower tempos, perhaps realising they can't headbang forever (also citing Oli's shot vocal cords as an impulse for change in musical direction).

Their commercial and critical success has eclipsed all of their peers. The newest single "Parasite Eve" is a combination of the new and old BMTH. Experimenting with elements of pop, electronica, and even rap flows, the track is an anthem for the end of the world filled with references to Coronavirus, paranoia and failed authority figures.
"When we forget the infection/
Will we remember the lesson? If the suspense doesn't kill you/Something else will"
.
.
.
.
.
The new Bring Me The Horizon single is out. "Parasite Eve" is an ode to the end of the world amdist a global pandemic, rising racial tensions and generation gaps that seem irreparable. The boys brought back the heavy guitars and some beautifully trippy visuals to complement their unique blend of alt rock and nu metalcore. .
.
.
.
.
#bringmethehorizon
#bmth
#olisykes
#parasiteeve
#bmth2020
#bmthfan
#bmth8
#bmthofficial
The single comes ahead of a multi-release project called Post Human.

For a more in-depth look at the track, check out this article I published on Genius.
Murder My Ego
"Ego Death" is a psychological phenomenon referring to the loss of one's sense of self. This is usually connected to some form of transcendental experience either stemming from drug use or spiritual awakening, such as meditation or psychoanalytical experience.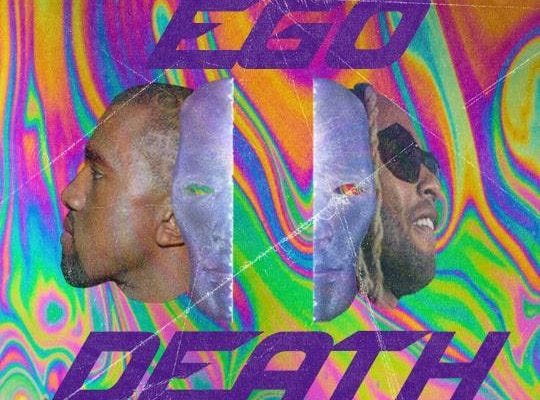 Ty Dolla $ign enlists a stacked list of features for this multi-layered look at what it means to dissolve into existential nothingness. The track is a mix of styles including an 80s shuffle house vibe orchestrated by Skrillex, who has been relatively quiet recently. He has been collabing with hip-hop artists though, the most notable being a remix of Kendrick Lamar's "Humble", and a feature on the Suicide Squad soundtrack with Rick Ross.
Alongside the fringed one, Kanye West, FKA Twigs, serpentwithfeet and Queen Latifah feature too. It's a kaleidoscopic trip, fitting for a song detailing being lost in a stream of consciousness whirlwind into nothingness.

As for Kanye's verse, the man who has made a name out of banging on about his ego, he spends some time deconstructing what it means to be a black man in America. It's further evidence that there is still some diversity in the man's lyrics beyond "I love Jesus"

These lines in particular stand out:
All these admirations, likes, and false validations
Feeding to our ego, talk for something Negro
One in four get locked up, your girlfriend get locked up
Plan B was they Plan A, to lower the count of our families
To lower the count on our damn votes
I explained this in an annotation on Genius: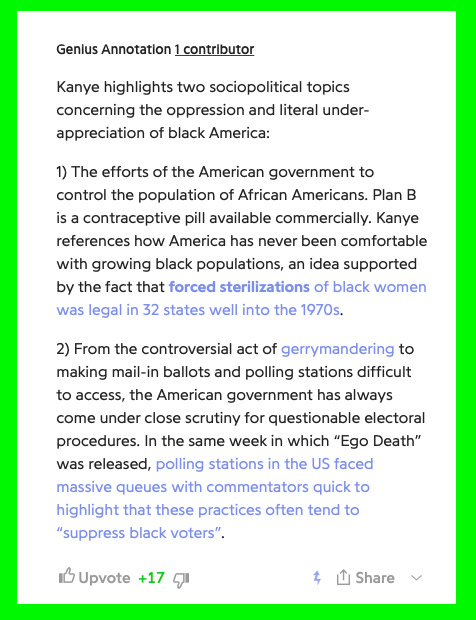 Album of the Week: Haim // Women in Music Pt. III
After admitting being sick of the traditional album cycle, the Haim sisters have been slowly releasing tracks over the past year. This album release collects those singles as well as around a dozen more. It's a great album, harkening to indie rock-soaked summers past, while remaining forward-thinking and contemporary.

Plus, calling your album Women in Music and standing amidst a smorgasbord of chopped up sausages is pretty damn hilarious.
Lyric of the Week
Bring out your boss bitch
(Yeah-eah-eah-eah)
BLACKPINK!

- "How You Like That" by Blackpink
Numbers of the Week
0.2-1.96%: the range of likelihood of Kanye West becoming president;

1,181: days since Kendrick Lamar's last studio album DAMN;

82.4 million: record-breaking views in 24 hours on Blackpink's "How You Like That?";

~200 million: estimated number of Tik Tok accounts in India that will no longer be able to learn new dance trends due to the outbreak of a cold India-China War.
Links
---