Issue 7
This is mumble rap's extermination/This is Godly interpolation
Kanye 2020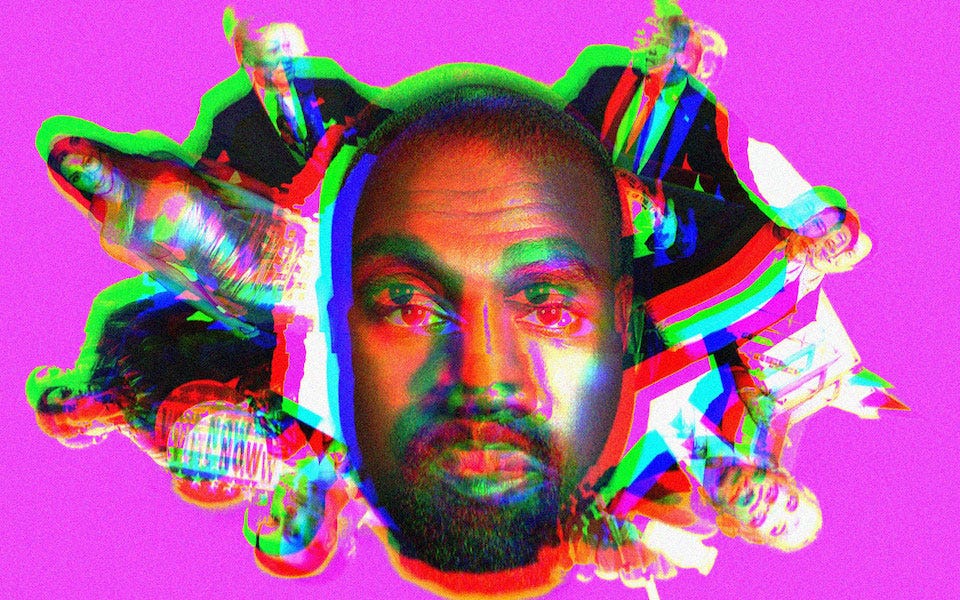 Narcissistic, manic, provocateur, unpredictable, barely able to string a coherent sentence together…and then there's Kanye!
At this point, the bizarre state of US politics needs no introduction. With Kanye's straight up batshit crazy interview with Forbes published last week (link below), the world didn't really know how to react. Kanye running for president? Was he for real? Is it all a marketing ploy? Does he support Trump still??
At this stage, it's impossible to tell what really is going on in Kanye's camp. However, there is a theory that post-2018 Kanye has been all a performance art act inspired by pioneering entertainment personality Andy Kaufman.
Kaufman is known for being one of the first meta-entertainers/comedians, blurring the line between reality and performance in a way that had audiences stunned, confused, but ultimately laughing.
The theory was initially proposed by an intrepid Kanye fan who cited a portrait of Kaufman as well as references to German performance artist Joseph Bueys tweeted out by close Kanye collaborators. Rolling Stone even interviewed the original Tweeter about his theory after the release of ye (Link below).
Let's entertain this idea. Kanye is deliberately making himself the pariah of the pop culture community…again. Everything he said in his Forbes interview is the antithesis of what is expected of the liberal-left of the entertainment world…you're simply not allowed to say these things, especially if you're a black male.
In fact, Kanye even hints at the idea that doing what he's expected to do as a black male (i.e. vote Democrat) is a form of racism.
To say that the Black vote is Democratic is a form of racism and white supremacy
Is he wrong? Actually, not entirely. But that doesn't make him right either.
But let's follow that 'performance art' thread a bit more. Why would people be so upset that Kanye is running for presidency? Is it because he's criminally underqualified? Is it because he's a narcissistic manchild? Is it because he has a background in celebrity and not politics or leadership?
These very questions highlight the fact that that is the exact situation the US finds itself in in this Trumpian era. With Trump as president, the office of statesman has lost all meaning. What's to stop a person like Kanye from taking the throne?
Whether intentional or not, this is a stroke of genius to focus the attention on all the flaws that have led to this age of the Great American Decline. To allow these men of dubious character to progress so high and far is a devastating prognosis for the type of society we have built up. Is it too late to treat this sickness?
Despite all this hoo-hah, it was soon revealed that Kanye is in fact dropping out of the presidential race (before it even began). Some are concerned that this is merely a manic episode in Kanye's public struggle with bipolar disorder. Fans fear that it is also the manifestation of mental conditioning by the religious right-wing that Kanye has been hanging out with in his Jesus Is King era.
Performance art or not, the idea of Kanye running for president is yet another fascinating chapter in both an illustrious career plagued with controversy, as well as a deeply troubling year that never fails to surprise.
Kid Cudi ft. Eminem
Kid Cudi is known for smooth, chill flows and humming a lot. Eminem is known for rapping as fast as humanly possible, with approximately 154* rhymes per line, including 'orange' and 'door hinge'. The two aren't necessarily natural bedfellows.
However, in the guise of Moon Man and Slim, the unlikely collab has yielded one of the lyrical highlights of the year. Rather than attempting to dovetail his trademark aggression into a chill Cudi track, Em's tempered his flow, with Cudi stepping up his own flow to match the energy.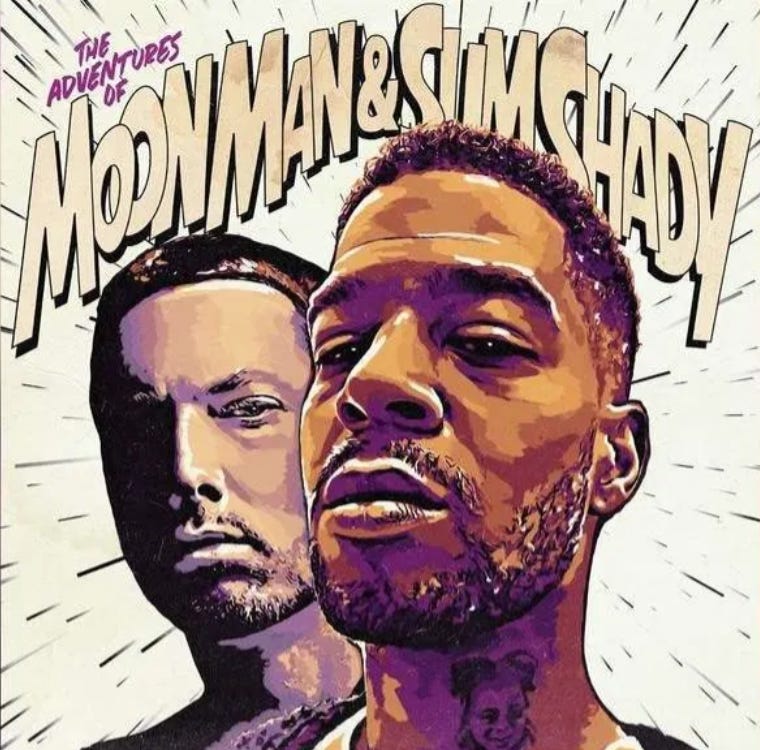 It's a brilliantly surprising single, featuring some of Eminem's best politically relevant bars in recent memory. He references coughing in public as well as giving shout-outs to Ahmauad Arbery and police brutality.
Don't wanna wear a mask and they're just scoffing
And that's how you end up catching the shit off 'em
I just used the same basket as you shopping
Now I'm in a fuckin' casket from you coughin' (Damn)
That is probably why your opinion of me's high as fuck
And it's nonstop fury (Yeah)
'Cause I ain't holding 'em up like an armed robbery (Nah)
And God's my jury, so when I die, I'm not worried (Nah)
Prayers to George Floyd and Ahmaud Arbery (Yeah)
How the fuck is it that so many cops are dirty? (Huh?)
Stop, man, please, officer, I'm sorry
But I can't breathe when I got you on top of me
Your goddamn knee's on my carotid artery (Fuck)
Watch the lyric video too! It's dope.
Kick, Push 2020
Lupe Fiasco continues to be one of the undersung GOATS of our generation. His sneaky release HOUSE EP in collaboration with Orlando producer Kaelin Ellis features a track called "Shoes" featuring streetwear god Virgil Abloh in some spoken word interludes.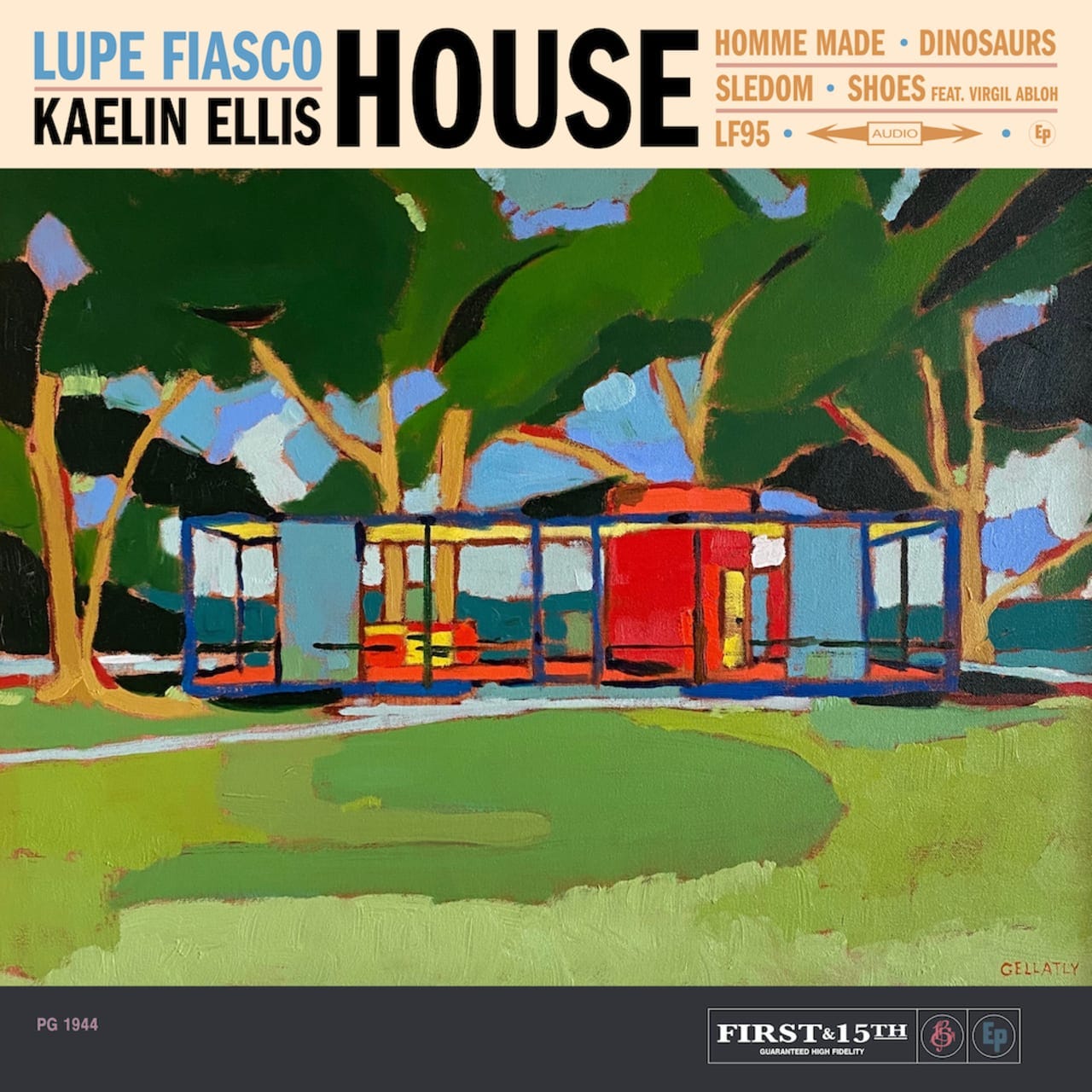 On its surface, it would be easy to look at the track as simple ode to sneaker culture. Lupe raps about lining up for a drop, making friends in the queue, admiring the newest sneaker he purchased. However, this is Lupe we're talking about.
The lyrics are ironically capitalist, with a touch of racial politics thrown in.
The whole event is just biggest-fan-channeling dope
I mean, one just feels privileged and esteemed
Inwardly serene and spiritually clean
Even the line feels like a team
In stark opposition to a competition for things
Virgil talks about inserting life into inanimate objects as the root of his Off-White's success. He talks about the sole of the shoe as tough and a connector with the earth. This play on words with 'sole' and 'soul' could be a reference to the black man's eternal struggle for worth and recognition in society.
With that, these shoes that we are about to design with words
Starts with a sole
Not a sole, but soul, you know, what touches you to earth
That's floating in nowhere, the soul
The sneaker industry has ballooned in recent years to become worth at least $58 billion worldwide. The hype surrounding latest drops has commodified streetwear beyond recognition, with everyone from Tik Tok influencers to middle school kids (although a Venn diagram of that would just be a circle) flexing their latest cops for clout.
The hype has not been entirely unproblematic, as referenced in other rap songs such as "Wings" by Macklemore, where he references someone getting murdered for his shoes:
Nike Air Flight, book bag was so dope
And then my friend Carlos's brother got murdered for his Fours
Whoa
In fact there have been multiple stories of murders occurring over highly priced sneakers. Googling 'murder over sneakers' yields 8,000,000+ results with stories dating from 1990 all the way to April 2020.
This latest Lupe track "Shoes" is a thoughtful look at the intertwining of hip-hop culture, sneaker culture and African American culture in 2020.
Joey Bada$$ // Separate from the pack
Joey Bada$$ is the dark horse in today's crop of new school rappers. His 3-track release, The Light Pack, is him asserting a space for modern boom bap/soul-based samples in 2020. It's a refreshing sound and points to a promising full-length release later in the year.
Hip-hop fans have highlighted a line in which he takes aim at 'mumble rappers' as laughable. Making fun of mumble rappers is already outdated and some feel as if this release is not up to scratch to be exterminating anything. Joey fans on the other hand, insist that it's a tongue-in-cheek throwaway line.
This is mumble rap extermination
This is Godly interpolation
This is that "Who your top five?" conversation
Type of rap that fuck a Grammy nomination
Watch the music video below:
Album of the Week // Juice WRLD - Legends Never Die
This is Juice WRLD's first major posthumous release. It's a fitting testament to the innate talent in the sad-boy rap icon's musicality. Brimming with melody, heart and melancholy, the album opens and closes with excerpt from interviews expressing his love for music and his fans. Juice's legacy will no doubt impact a new generation of music lovers in a way that few artists have done.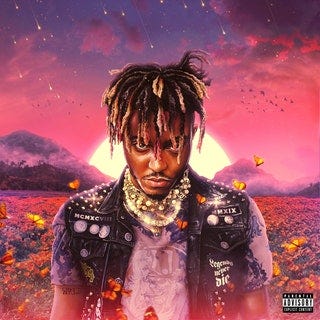 In the words of collaborator and friend Halsey:
Juice was one of the greatest people I have ever known, and one of the most brilliant artists we will ever live to witness. A true genius who had lyric and melody spilling out of him without any second thought or hesitation. And a beautiful soul who believed in spreading love and creating a community for people to feel less alone.
Lyric of the Week
Cracking seals, guilty no appeal
Trip down the hill, strawberry fields
Are you even real?
She said, "tell me how you feel"

- James Blake: "Are You Even Real?"
Tweet of the Week
Links