Discover more from deadset.press
Pop culture wisdom
Issue 5
Ooh, motherland, motherland, motherland, motherland drip on me
This week saw the Black Lives Matter protests simmer down somewhat. However, the rage and discussions are far from over, with plans to make the July 4th weekend a focal point for further protests. I know this is a primarily music and pop culture blog, but you should know by now that I always seek to explore the deeper context, especially from a sociopolitical context…so there is no reason to not continue writing and talking about these releases.
Beyonce // Welcome To The Black Parade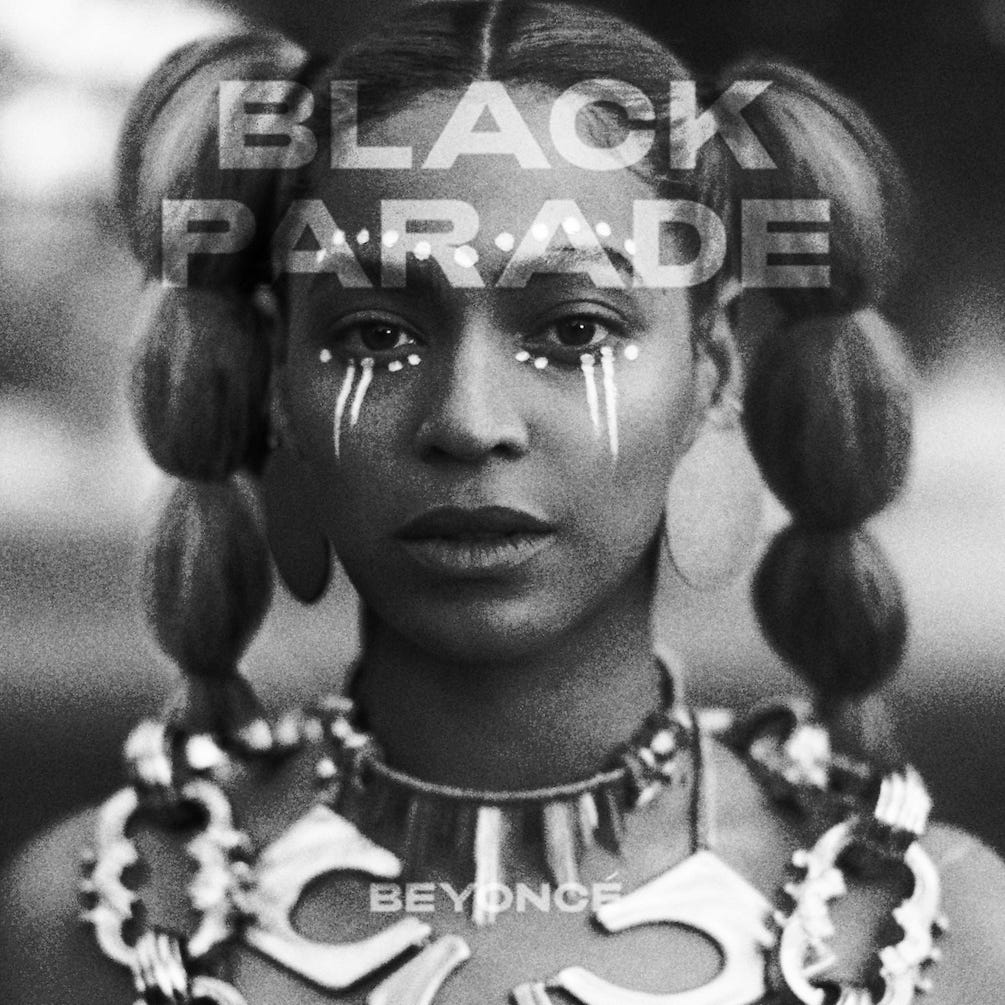 June 19th, commonly referred to as Juneteenth, is a significant day in US history. More specifically, African American history. It's a commemoration of the day in 1865 when Texas slaves were finally informed of their freedom, some two and a half years after the actual Emancipation Proclamation. Beyoncé's latest standalone single "Black Parade" was released to coincide with this date.
"Black Parade" sounds exactly like that - a parade. It's a cause for celebration and triumphant reflection as Black America takes a stand amidst a history of slavery and racial violence. It's made all the more powerful by the fact that Beyoncé calls Houston home - a historical hotbed for slavery. She proudly sings:
I'm goin' back to the South
I'm goin' back, back, back, back
Where my roots ain't watered down
Growin', growin' like a Baobab tree
Of life on fertile ground, ancestors put me on game
As Black Lives Matter and George Floyd/Breonna Taylor/*insert latest police brutality victim name here* protestors continue to voice their rage and frustration in the streets, this single is a perfect soundtrack for what can only be described as a manifestation of black parades in the streets.
Parades are joyful, defiant, public and communal. Beyoncé has provided an anthem for black America to be proud of their "melanin" and how much they have achieved, and will continue to achieve moving forward into what is hopefully a post-Trump era.
Ooh, melanin, melanin, my drip is skin deep, like
Ooh, motherland, motherland, motherland, motherland drip on me
Ooh, yeah, I can't forget my history is her-story, yeah
Being black, maybe that's the reason why
They always mad, yeah, they always mad, yeah
Been past 'em, I know that's the reason why
They all big mad and they always have been
J Cole VS Noname
The conscious one J Cole released a subtle diss track against relative newcomer Chicago rapper-poet Noname. In the track named "Snow On Tha Bluff", J Cole says he understands the message that many young artists are trying to convey, but kind of mansplained his way through a verse that boiled down to, "Shh you a girl, stop talking about things you don't understand"
Now I ain't no dummy to think I'm above criticism
So when I see something that's valid, I listen
But shit, it's something about the queen tone that's botherin' me
She strike me as somebody blessed enough to grow up in conscious environment
With parents that know 'bout the struggle for liberation and in turn they provide her with
A perspective and awareness of the system and unfairness that afflicts 'em
And the clearest understandin' of what we gotta do to get free
Understandably, J Cole drew some criticism for this freestyle. While he didn't specifically call out Noname, hiphopheads were quick to put 2 and 2 together since she called him out for not tweeting or speaking out publicly on Black Lives Matter (this despite him being photographed attending rallies in the streets of his hometown Fayetteville).
"Can you tell me why every time I step outside I see my n*****s die? I'm letting you know that there ain't no gun they make that can kill my soul"
.
.
.
J Cole in 2014 wrote a song, "Be Free" in honour of Michael Brown who was gunned down in the streets. J Cole in 2020 is marching in Fayetteville in tribute to George Floyd. .
.
.
.
#befree
#jcole
#justiceforgeorgefloyd
#icantbreathe
#ACAB
#FTP
He did respond in a series of tweets in which he clarified that he 100% respects Noname and recommends his fans follow her, but believes that artists and experts have their own lanes to stick to.
Follow @noname. I love and honor her as a leader in these times. She has done and is doing the reading and the listening and the learning on the path that she truly believes is the correct one for our people. Meanwhile a nigga like me just be rapping.

I haven't done a lot of reading and I don't feel well equipped as a leader in these times. But I do a lot of thinking. And I appreciate her and others like her because they challenge my beliefs and I feel that in these times that's important.

We may not agree with each other but we gotta be gentle with each other. ✌🏿
Noname released a response diss track "Song 33", but very quickly expressed regret at letting her ego get the better of her.
It may seem like another inane rap beef, but this verbal altercation does raise some salient points - the role of artists and celebrity in a time of protest, as well as a need for civil discussion from differing points of view. J Cole raps about social issues on the regular, but he seems reluctant to make a public statement outside of his music. Is this something to be commended? Or should all artists have an opinion on social and political issues, even if they aren't experts? I'd be curious to hear your thoughts…
Kpop VS Trump Pt. 2
In Issue 3, I highlighted an army of Kpop stans who managed to derail white supremacist online campaigns. The battle may have been won then, but the war is far from over!
Trump's first major rally since March took place in Tulsa, Oklahoma. Timing and race issues aside, the rally seemed to have generated considerable hype for the MAGA crowd. People were camping out and POTUS even tweeted out that almost 1 million people were requesting tickets to attend.
This projection meant that the Trump campaign organised overflow sections for the reality. However, the reality was that less than 1/3 of a 19,000 capacity stadium showed up to hear Trump soliloquise.
The secret? The factions of Tik Tok known as Alt Tik Tok and Kpop Stans mobilised once again to register for seats at the Trump Rally. The trend was to sign up, including guests, and to make up a dumb excuse for not going, for example, picking out the lint from your carpet or taking your hamster for a bath. There was no actual limit on the free registrations, which is why the Trump campaign was led to believe an overwhelming response. Anyone who showed up on the day would have been allowed in. Alas, no one did.
Trump was arguably elected by meme power, and it's only fitting that the trolls fight back by way of Tik Tok and Kpop fandoms. What a time to be alive.
I even made a Tik Tok of it in order to join the good fight.
Album of the Week // Punisher by Phoebe Bridgers
For some heartfelt, beautifully millennial angst, you can't go wrong with a bit of Phoebe Bridgers. Listen to her highly anticipated sophomore album and find comfort in her metamodernist approach to life in 2020 by way of an indie-folk movement of yesteryear updated with a punk edge.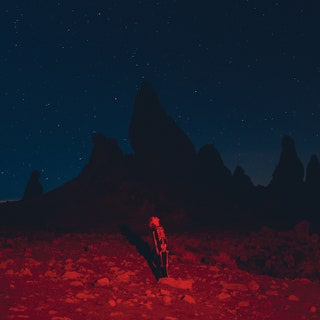 Lyric of the Week
Love is the new money
That's my frequency
Spark up, burn the sage
Clear the room, kill the hate
Love is the new wave

- Teyana Taylor ft. Ms. Lauryn Hill // "We Got Love"
Numbers of the Week
16: age of The Kid Laroi being the youngest over Aussie to chart in the Hot 100;

33: Happy birthday to Kendrick Lamar! (June 17)

49: Happy birthday to Tupac Shakur! (June 16…coincidence?)

215: Words Eminem wrote in a letter to Tupac's mum following his death;

6,200: Attendance at Trump rally in Tulsa, OK when the Kpop stans flooded registration on the campaign's website.
Meme Review
Posted on the deadset insta, but reposted on my personal IG with added text: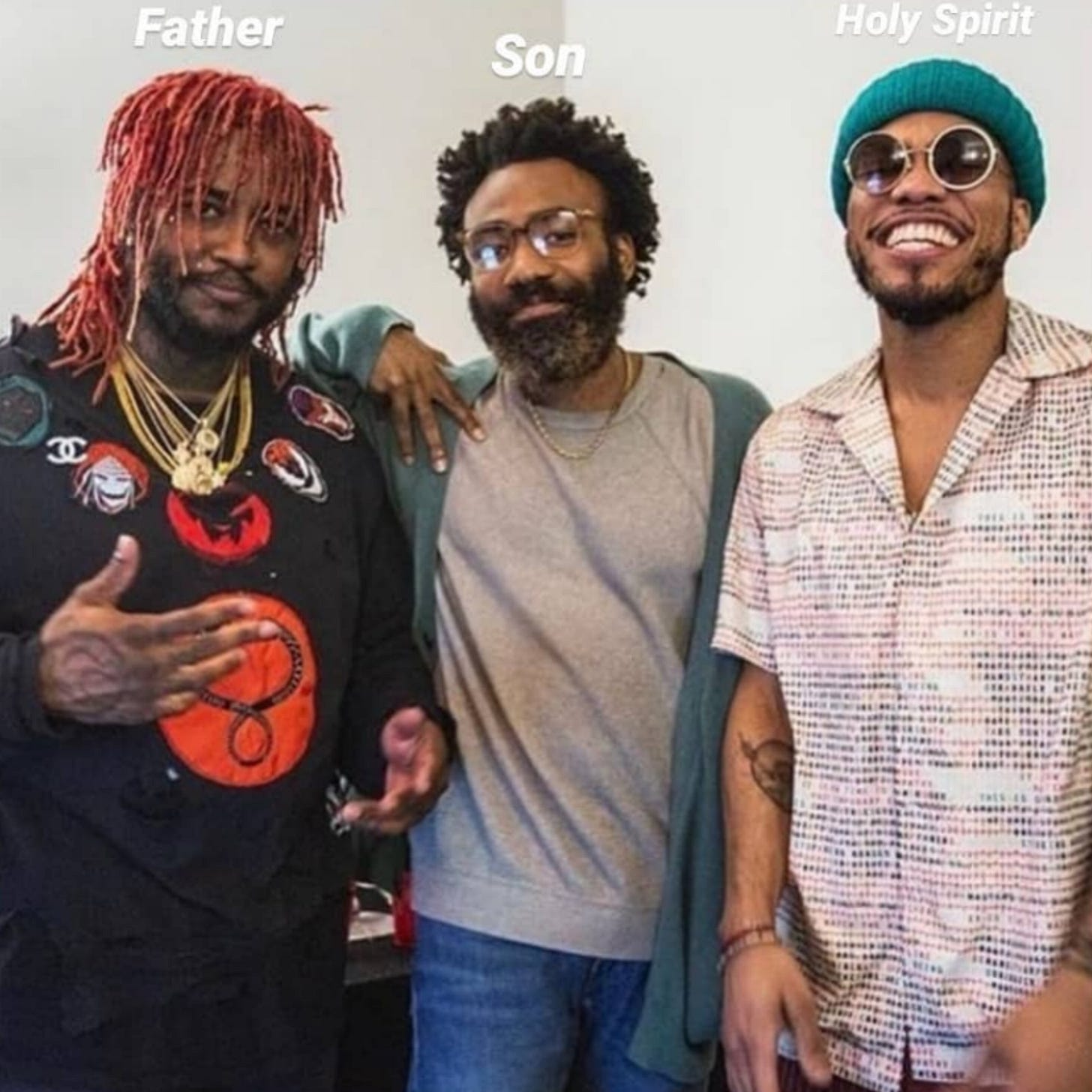 Links
---